Employer - Sponsored Retirement Plans
Retirement Readiness Action Plan - "theCAPSTONEway"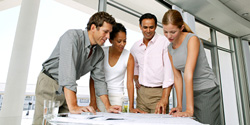 Employer sponsored retirement plans are an extremely important benefit for employees. We provide the knowledge and solutions to help plan sponsors make sure that their employees get the professional assistance that they need in bridging the gap between their current savings and their future retirement cash-flow income needs.
How does your retirement benefit plan measure up?
In the past, retirement plan success has typically been measured by participation; however, participation alone does not ensure that participants are truly prepared for retirement. It's important for plan sponsors to know how well their plan is meeting participant needs - and how well they may be fulfilling their plan sponsor fiduciary obligations and roles.
We provide plan sponsors with assistance in these areas:
Identify potential gaps in their retirement plan

Determine if a plan sponsor's plan is meeting participant needs

Identify if participants are truly on track to achieve their personal retirement goals and objectives
Our overall objective is to help plan sponsors determine a course of action and take proactive steps to improve the success of their retirement plan.
The solutions and services that we suggest may include:
Changes in the design or features of the plan

Investment option changes

Suggestions for automatic enrollment

Addition of non-qualified or supplemental savings vehicles for owners and key executives

One-on-One enrollments & education

Customized retirement savings illustrations for participants

Individualized follow-ups with participants
To help ensure that a plan sponsor's retirement plan provides a viable solution for their participants, it can be important to review the plan against industry benchmarks.
Our Financial Professionals can take you through this process "the Capstone way".