Income Protection
Disability Solutions for Individuals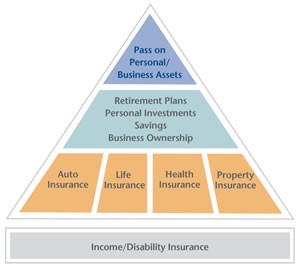 Income protection: Your income is your most valuable asset and is the foundation to a solid financial plan. Help maintain your lifestyle and protect your family's future if you become too sick or hurt to work with Individual Disability Income insurance.
Why do we need income protection? Check out this infographic to learn more.
Find out how much coverage you need. Quote Request.
Retirement savings protection: A disabling injury or illness not only affects your immediate income, it can also make it challenging to continue saving for the future. Protect your ability to save for retirement with DI Retirement Security. It pays benefits to an irrevocable trust that can be accessed during your retirement years.
DI Retirement Security benefits are available when they're needed most. If your health prevents you from earning an income, you likely cannot continue contributions to your retirement savings vehicles or receive any applicable employer match.

DI Retirement Security benefits are invested on your behalf in an irrevocable trust.

At age 65 or 67, you receive payments from the trust.

Benefits are paid until the funds are depleted.
Contact us to obtain more information on this unique strategy: Contact Form.